Penguins: Close Encounters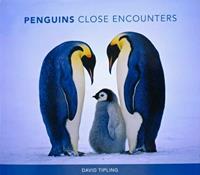 David Tipling
Bloomsbury, £18.00
Penguins seem to be the animal of the moment: films such as Happy Feet and March of the Penguins have solidified their place in popular culture. As one of our most loved birds, a book full of penguin images is always going to be a pleasure to look at, but the personal approach that David Tipling has taken in capturing and recording his images gives Penguins: Close Encounters a unique perspective. Featuring 140 colour photographs of all 17 penguin species, this book is an excellent addition to the coffee table of biologists and non-biologists alike.
The text gives an insight into more than just the subject of the photo, taking it beyond a standard coffee table book. Tipling gives a personal edge to almost every photograph in the book, describing, for example, what the day was like or how he used his equipment to get the best shot. Combined with concise factual information, the book provides a detailed picture of penguins in their natural environment.
As Tipling writes in his introduction "these are birds that never fail to make people smile". Indeed, as you admire the shots of these graceful birds, almost every image will bring a smile to your face.
Natasha Neill MSB