African Natural Plant Products Vol II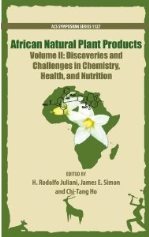 H R Juliani, J E Simon and Chi-Tan Ho (Eds)
American Chemical Society/Oxford University Press, £97.00
Plants have always provided a range of products that contribute to human wellbeing through health and nutrition. African biodiversity, coupled with indigenous knowledge, are the sources of valued and potentially valuable substances, but remain poorly documented. This second volume in the series continues the objective of highlighting such benefits through the work of 75 authors of whom 39 are from Africa itself.
The first of four parts considers African traditional medicines, with emphasis on the miracle tree (Moringa oleifera), marula (Sclerocarya birrea) and West African black pepper (Piper guineense). All have many uses, some real and others pending, but knowledge and commercialisation are limited.
Part two examines the chemistry, medicinal properties and validation of traditional medicines; examples include the African potato, African nutmeg, Croton membranaceus (a euphorbia), rooibos (Aspalathus linearis), common ash (Fraxinus excelsior) and fonio (Digitaria exilis). Part three discusses quality control in relation to applications, clinical testing, quality standards and commercialisation.
The final section focuses on the applications and commercialisation of African natural plant products for food, nutrition and health. There is also a chapter on the potential contribution of indigenous plants to health and food security. There are reference lists and useful illustrations per chapter but, unfortunately, no maps to show plant distributions or locations of studies. The high price will deter some buyers, but this book is a showcase for the potential of biodiversity, in Africa especially, for possibilities of wealth and welfare.
Dr A M Mannion