Flora of Great Britain and Ireland Volume 2: Capparaceae–Rosaceae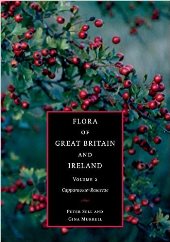 Peter Sell and Gina Murrell
Cambridge University Press, £125.00
The first of the five volumes documenting the vascular plant flora of Great Britain and Ireland was published in 1997, with subsequent volumes in 2006 and 2009. This most recent volume deals with four orders and one subclass, notably Capparales, Ericales, Diapensiales, Primulales and Rosidae. These comprise 18 families, 148 genera and 1,122 species, and include 65 subspecies, 221 varieties, 53 formae and 93 hybrids. The numbers alone are overwhelming and reflect the high degree of detail, not to mention the immense dedication of the authors and their collaborators in preparing this substantive and definitive work.
As well as native species, naturalised, introduced and hybrid species are included. In addition, infraspecific taxa – for example, subspecies, varieties, and forms – are described. The detail provided on individual plants includes Latin and common English names, as well as colour, shape and form of stems, inflorescence, flowers, petals and fruits. The inclusion of information on ecology, habitat and geographical contexts is especially welcome, adding a broader and environmental dimension to plant description. All of these data will facilitate plant identification, as will the many black and white line drawings provided in the glossary, in which definitions of botanical terms may be found.
Data sources are included bibliographically for those requiring original records. What is particularly significant is the intellectual canvas of plant biodiversity this book presents – plant life in the relatively small area of Great Britain and Ireland is amazingly diverse. So, too, are its history and geography, and threats to its continuance.
Documenting the basic constituents is the basis of this book. If there is no recorded detail of plants, how can conservation measures be implemented? As with many academic books, the price may be high, but it remains a poor reflection of the time and effort invested by the authors.
Dr A M Mannion