How Plants Work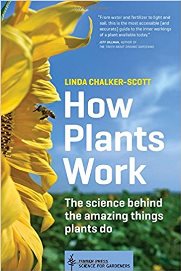 Linda Chalker-Scott
Timber Press, £19.99
A book that bridges the gap between botany and horticulture ought to be relatively easy. Both readerships have a love of plants at their core. However, such books are rarely attempted, botany texts tending to focus on individual plant organs or characteristics, while horticultural books are more concerned with what grows best where, and solutions to pests and plant diseases.
This book is a good effort to bridge the gap between disciplines and encourage a greater understanding of plant biology, especially physiology, such that gardeners are more knowledgeable of plant science and hence more successful in their endeavours.
Written in a chatty, accessible style to offset the archetypal dryness of standard textbooks, the author manages to explain plant processes without being over simplistic.
Starting with cell structure and establishing a foundation that includes the roles of soil minerals, hormones and biochemical processes, it goes on to explain the role of leaf colour, diurnal and seasonal rhythm, tree growth and plant reproduction. It is an excellent overview without overwhelming the reader.
I particularly enjoyed the sections on phototropism and hydrogels, and will use these in my own teaching. There are excellent, clearly illustrated examples throughout, making this a useful and genuinely enjoyable book for any gardener who wishes to understand his charges better and for any botany teacher in search of examples that bring the subject closer to home.
Dr Paul Ashton