Enhancing Learning With Effective Practical Science 11–16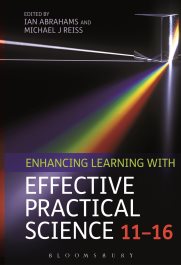 Ian Abrahams & Michael J Reiss (Eds)
Bloomsbury, £22.49 (Paperback)
The importance of practical work in science lessons is widely accepted, but it has been frequently suggested that the quality of practical work in secondary schools is uneven. Research suggests that while most students enjoy practical work and gain practical skills, they too often do not learn what their teachers intend them to learn, particularly in terms of scientific concepts. This has been phrased as students having a 'hands-on' rather than a 'minds-on' approach.
This book provides ideas for 72 practical sessions, complete with the procedures, learning objectives, equipment lists and any health and safety issues, as well as emphasising the 'thinking behind the doing' by means of matrices showing domains of 'observables' and 'ideas' linked to the practical work.
As with chemistry and physics, the biology chapters are organised into practical ideas for 11–14- and 15–16-year-olds. Many key practicals are covered, including investigating the effect of antiseptics on microbial growth, the effect of exercise on heart rate, variation within and between species, the presence and absence of light on photosynthesis using algal balls, root-tip preparation and the mitotic index, and investigating the effects of evolution using a model.
It is a pleasure to see, in the practical session on extracting DNA from plant tissue, that the use of onions or thawed frozen peas is advocated rather than the too-frequent suggestion to use kiwi fruit or strawberries.
The four chapters that are not devoted to practical lesson guides discuss the role of practical work in science education, explain the domains and the 'minds-on' model, and look at how teachers can get the balance right between students 'doing' and students 'learning' in practical sessions.
This guide to making practical science more effective, in order to enhance the learning experience, will be welcomed by both new and established science teachers and should feature in the libraries of all teacher-training institutions.
Dr Alan Woollhead