Tapeworms, Lice, and Prions: A Compendium of Unpleasant Infections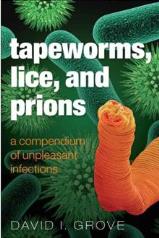 David I Grove
Oxford University Press, £25.00
This book is for anyone who requires an historical account of around 50 human parasitic diseases (micro organisms included). Unless you are familiar with the background of such diseases, most of the book's content will be new.
The author has collected, no doubt with determination and dedication, more than 500 pages of text on the discovery and unravelling of parasite lifecycles and the transmission of infectious microorganisms, complete with photographs of the men (this was then a male-dominated world) who pieced together the evidence and finally produced the answers to the conundrums that are parasite life cycles.
Most of the accounts are set in the 1800s and early 1900s, except for the selection of modern diseases. We will all wonder why certain diseases are not included, but the author is to be congratulated on a substantial body of knowledge presented in a largely engaging manner.
The publisher seems to have been a bit mean on the quality of the paper, so the illustrations are grainy – perhaps they thought it in keeping with the content. At £25.00, this book is a snip and should be on everyone's reading list.
Dr Alan Pike