Bacteria: A Very Short Introduction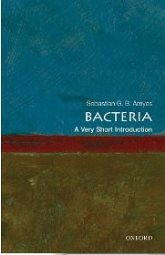 Sebastian G B Amyes
Oxford University Press, £7.99
You may be familiar with the popular Very Short Introduction series of pocket-sized books from Oxford University Press. There are more than 300 titles written by experts with the aim of stimulating interest in challenging subjects. New for 2014, Bacteria is very readable, covering in eight chapters the origins and place of bacteria in civilisation, their discovery and some of the scientists involved, through to the development of antibiotics and antibiotic resistance.
The 'age of bacteria' has persisted from the time when life began, and author Sebastian Amyes (professor of microbial chemotherapy at the University of Edinburgh) justifies why bacteria are worthy of our interest: even within our own bodies, bacteria outnumber our own cells, while their biomass probably outweighs that of all other organisms on the planet.
We associate bacteria with causing diseases, but they play a complex role in recycling elements and in the lives of many organisms. That we have only a hazy idea of the importance of bacteria to life on Earth becomes apparent within the pages of this guide.
Despite its title, Bacteria is neither 'very short', nor is its level merely 'introductory' – it's appropriate for teachers as well as students. Succinct and full of detail, there's something for everyone to learn.
Each chapter signposts you to further reading, and it doesn't end there, as if you have something to add or discuss, you can join the VSI Facebook page, sign up for its e-newsletter, or access the thoughts of the author via an online blog.
Susan Alexander CBiol CSci MSB