Mountain Lions of the Black Hills: history and ecology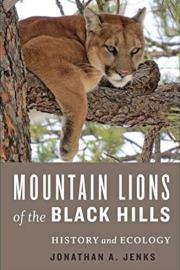 Jonathan A Jenks
Johns Hopkins University Press, £55.50
The Black Hills of South Dakota and Wyoming may be best known for Mount Rushmore and the town of Deadwood, but in this book they feature as one of the few, and somewhat isolated, territories left for mountain lions, once widespread across the US mainland.
Sometimes called pumas, panthers or cougars, mountain lions (Puma concolor) have long been studied by Professor Jenks and his students – the book is enriched by more than 25 years of research. The first chapters explore the history and ecology of the Black Hills and include a description of the sighting of mountain lions during Custer's reconnaissance in 1874. Not long after, a bounty was placed on these large carnivores and by 1900 very few were left and the population became endangered.
Their recolonisation, along with the restoration of elk and bighorn sheep populations, is considered in tandem with an overview of the diverse ecosystems found on and around the Black Hills.
Subsequent chapters focus more specifically on the mountain lion's genetics, nutrition, changes in prey base (initially porcupines and mule deer, but then domestic cats and dogs, white-tailed deer and elk), behaviour, disease, population dynamics and ecology, along with some suggested conservation strategies.
All the chapters are interesting, highly readable and, in places, somewhat autobiographical. A particularly unusual chapter bridges zoology and anthropology by considering how mountain lions have been, and are, perceived by their human neighbours and the impact this has had on their conservation.
There are ample maps, charts, graphs, diagrams and photographs – sometimes two or three on a double page – and they are all clear and easy to understand. The photos of mountain lions being fitted with radio-collars help to show some of the difficult conditions associated with the research, yet also portray some of the excitement of getting close to immobilised lions to collect much needed biological data.
Likely to appeal to anyone interested in big cats or the ecology of large predators, this book should be particularly useful to wildlife professionals, including ecologists, conservationists and researchers.
Sue Howarth CBiol FRSB