A selection of activities related to food waste, food production and climate change. Plus a series of tried and tested resources related to insects and how they might feature in a 'menu of the future'.
1. Food security lesson plans. Most suitable for school students aged 14+
These resources were developed for Biology Week 2013 in partnership with BBSRC's Global Food Security initiative. They include Key Stage 4/ S4 biology resources related to the carbon cycle, food production and food waste and Key Stage 3/ S3 geography resources related to environmental and social impacts of global food production. There is also a food waste related assembly plan.
Biology carbon cycle worksheet with answers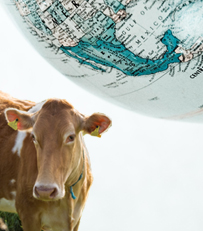 Biology carbon worksheet
Biology food security quiz
Biology lesson presentation PowerPoint
Biology lesson presentation PDF
Biology and numeracy worksheet
Geography teachers' notes
Geography lesson presentation PowerPoint
Geography lesson presentation PDF
Geography summary worksheet – fill in the gaps
Geography homework worksheet
Geography homework worksheet with answers
Food waste assembly
2. Entomophagy activity and display resources. Most suitable for ages 10+
a) These resources from All Things Bugs introduce insects as a food source. Find out how the nutritional content of some insects compared to other protein sources.
Download: Nutrition factsheet
b) The benefits of eating bugs compared to cows.
Download: Bugs vs Cows factsheet
c) You could laminate these A3 posters to engage students or public audiences with some thought provoking questions about food - provide them with some sticky notes so they can pin up their thoughts and opinions. Why not host a light-hearted ballot with the ballot paper below and a home-made ballot box?
Download: A3 posters and ballot papers
d) Learn about bugs eaten all over the world with these fact cards.
Download: Fact cards
e) Some further information from World Resources Institute about the importance of finding new sustainable food sources.
Download: Sustainable food sources

2. The Hungry Games. Most suitable for ages 17+
a) These resources were developed by the Royal Society of Biology and the Biochemical Society for use at festivals with diverse audiences. The card game has four decks of cards, with each deck focusing on one nutrient group. Further information on how to play it below. You can also download the A5 fact sheet.
How to play the card game
There are four decks of cards – carbohydrates, fats, proteins, vitamins & minerals.
By playing each card game, visitors will learn in detail about different foods and their nutrient content. They will also find out about the environmental impact of the foods in these rounds.
The scoring for the card game is based on the top trumps game, and uses the traffic light system used for food labelling in the UK.
Red traffic light (lowest score) Foods that contain a high amount of something considered bad for our health (e.g. Saturated fat, sugar), foods containing low amounts of things good for our health (e.g. Fibre, essential fats) and foods with a negative environmental impact.
Orange traffic light (medium score, beats red) Foods with a medium score will have an orange traffic light, and will beat foods with a red score.
Green traffic light (highest score, beats orange and red) Foods high in nutrients that are good for us (e.g. Essential fats, fibre, protein), foods with a low environmental impact and foods low in nutrients bad for our health (e.g. Saturated fat).