How to enter
The Photography Competition 2022 is now open for entries.

Please see below for full details of this year's theme, Communication. A poster is available to help promote the competition.
Photographers are requested to consider their own welfare and that of other individuals
and they take care in their attempt get their photographs. Past photographs can be submitted into the competition.
Please read the competition's terms and conditions before entering and submitting your photograph(s).
The competition will close for entries at 23:59 BST on 24th June 2022. Winning entries will be announced on the RSB website in October 2022.
Prizes
There are two categories in the competition, each with a cash prize:
Photographer of the Year (18 and over) - £1,000 top prize
Young Photographer of the Year (under 18) - £500 top prize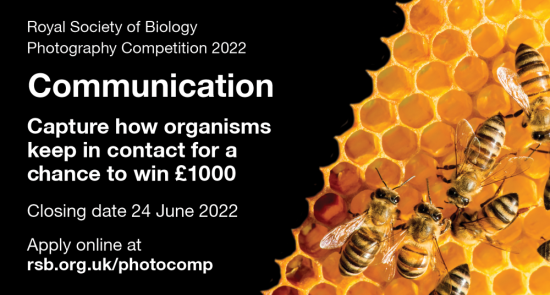 Competition theme
'Communication' is the theme of this year's Royal Society of Biology Photography Competition.
Life on Earth is constantly communicating and this year we invite you to capture these interactions.
Your photograph could depict the sharing of information within and between different species, such as in the colouration of feathers, flowers and fur. You may want to focus on the messages portrayed in courtship behaviour or territorial displays.
Your image could illustrate the signs and signals that help us understand the condition of ecosystems.
We also welcome entries that explore this year's theme at the molecular or cellular level, illustrating signalling and other processes only revealed to us with the aid of a microscope.
About the competition
The Royal Society of Biology annual photography competition invites amateurs to submit photographs on a particular theme.
Previous competition entries
| | |
| --- | --- |
| | |
| | |
| | |
| | |
| | |
Contact
If you have any queries regarding the competition, please contact Raghav Selvam.
Judges
Alice Campain, CABI
Tim Harris, Nature Picture Library and Bluegreen Pictures
Tom Hartman, The University of Nottingham
Alex Hyde, The University of Nottingham
Linda Pitkin, underwater photographer