Travel Grants
The aim of these grants is to give the opportunity of overseas travel in connection with biological study, teaching or research to those who would otherwise be unlikely to have it.
Grants of £500 are available every year to members. Select for eligibility and further details on each grant.
The 2017 grants closed for application on 1st March. All applicants will be notified of the outcome by the end of March. The 2018 grants will open in November 2017.
Read reports from our previous recipients and contact Raghav Selvam if you have any queries.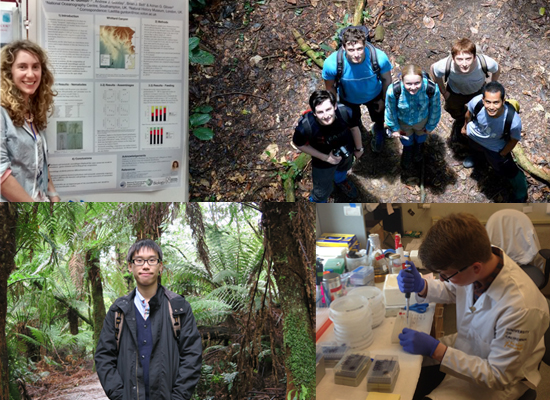 Laetitia Gunton (top left) at the 14th Deep-Sea Biology Symposium in Aveiro Portugal. Fergus Kennedy (top right) and colleagues at the Danum Valley Field Centre in Sabah, Borneo. Chi-Ching Tsang (bottom left) at the 19th Congress of the International Society of Human & Animal Mycology in Australia. Hugh Nicholson (bottom right) at the Fischer Laboratory, University of California in the USA.