BioArtAttack Competition

It's time to use your imagination for 2018's BioArtAttack competition!
What is a BioArtAttack? Your entry can be anything from drawings and sculptures to models and collages of any scale. The piece of art created can be entered by an individual or as a group, including classes, lab groups or any group of biology enthusiasts.
Anything and everything creative is eligible for submission, just send us photos of your masterpieces.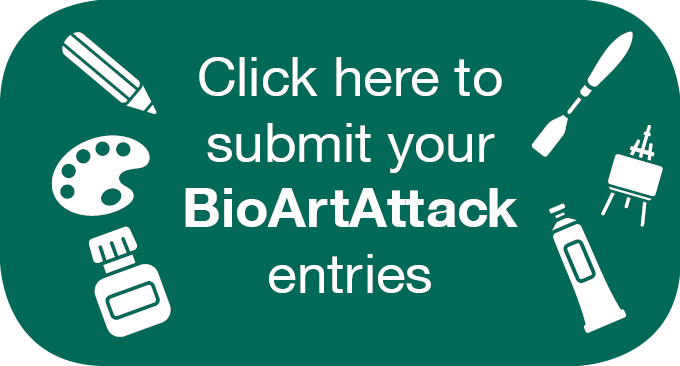 Entering the competition
Submissions can be entered by either individuals or groups.
Only photos of creations or scanned images of paintings and illustrations can be submitted, and up to ten images or photos of the piece can be included in your submission. We will not be accepting video entries.
You also need to tell us in writing a bit about your piece, including:
The title of your piece
Equipment and material used
What your piece depicts
The science behind your piece
Entries will be judged on:
the variety of materials used
the variety of creative skills used
the aesthetic quality of the piece
the originality of the piece
how well the piece captures the biological basis of the subject matter
Please read the competition's terms and conditions before submitting your artwork.
The competition will close for entries on Sunday 14th October 2018.



BioArtAttack 2017 individual category winner: Alex Cross (Abbey Gate College)


Inspiration
From the very big to the very small: Your BioArtAttack could take inspiration from the smallest parts of the living world that only a microscope can see. Think cell structures, bacterial colonies and microscopic organisms. The mesmerising patterns, colours and shapes seen through the eye-piece of a microscope are sure to provide inspiration for a great piece of art.
If you prefer to think big, you could use vast environments or ecosystems as the theme of your entry. Your piece of art could be based around great savannahs, wide-open plains or immense rainforests and the huge range of diversity contained within them.
Hands-on science: Lab or field equipment could be the focus of your artwork, with fascinating tools and apparatus being used by scientists to provide ways to make wonderful discoveries. Take a look around your school lab or science classroom to get started with ideas for your entry.
Scientific concepts: Why not use your BioArtAttack to help explain a biological concept, theory or area of biology that particularly interests you? Art can be a great way to visualise something that may seem complex or difficult to understand.
Find out more about the 2017 competition winners.
Choosing our winners
A judging panel of RSB staff will decide on a winner and runner up for both the individual category and group entry category, and let the winners and runners up know by Friday 19th October 2018.
The BioArtAttack winners in each category will receive a prize for their creation.
Contact
Email Harriet McAra if you have any queries, and good luck!