Bio-Art-Attack Competition
It's time to get creative and think big with this year's Bio-Art-Attack competiton!
What is a Bio-Art-Attack? These can be anything from collages to models, sculptures or paintings created by yourself or your lab group, classroom, coursemates or any other biology enthusiasts.
Themes to think about
Ecology: From the depths of the sea to the Amazon jungle, there are a rich variety of habitats which could provide inspiration for a Bio-Art-Attack. You could choose an individual species, or perhaps species interactions.
Under the microscope: Microscopes can reveal the shapes of cells, whether they are single-celled organisms or forming tissues, and give insights into cell division. Some things are too small to be seen under a light microscope. Scanning electron microscopes produce fascinating images, from the structure of an insect's eye to a colony of bacteria. Even smaller, you could represent the structure of molecules such as DNA in your artwork.
Being a scientist: Labs contain equipment, such as microscopes, which could be the focus for the artwork. You could even create a whole lab scene.
Prizes are up for grabs!
A judging panel of RSB staff shortlist eight entries, that the public can then decide the winner of through a public poll.
The top three BioArtAttack winners received a pack of art supplies to help towards their next biology-inspired creation.
How to enter
You can email us up to five photos of your creation during Biology Week. Please include the following:
the full names and ages of those involved with creating the piece
a first point of contact name, email address, phone number and postal address
We will not be accepting video entries. Only photos of creations or scanned images of paintings and illustrations can be submitted.
All entries must be emailed, we will no longer be accepting entries submitted via twitter or via other social media channels.
Extra credit?
BioArtAttacks submissions can be used as a basis for a CREST Star or CREST Award.
2017 Bio-Art-Attack winners announced
Over 70 high quality and exciting art pieces were entered into this year's Bio-Art-Attack competition, including collages, sculptures and stop motion videos covering a wide range of subjects within the biosciences.
RSB staff shortlisted eight of the best entries, and it was then almost 700 votes were cast in the public poll to decide on the winners.
Alex Cross, 11, a pupil at Abbey Gate College in Chester, received the most votes for his model of a serotonin molecule.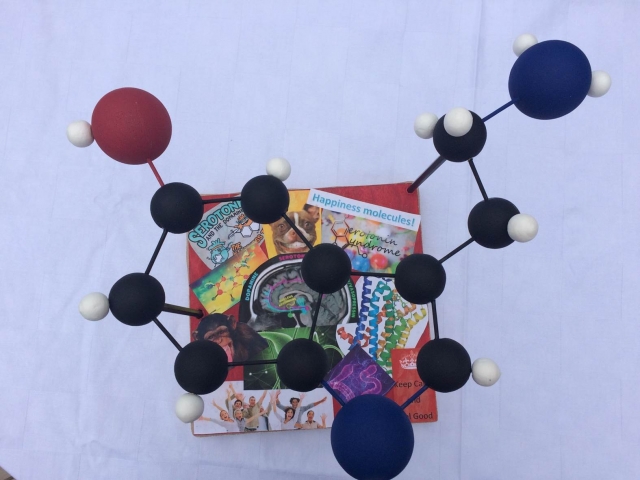 Alex's entry combined a model of the molecular structure of serotonin with some information about its role as a neurotransmitter in the brain
Submissions from Kings Priory School in Tynemouth and Whalley Range 11-18 High School in Manchester were runners up, and will receive art supplies.
2016 entries
In 2016 year three winners were selected by judges Dr Rebecca Nesbit MRSB, scientific programme manager at Nobel Media, Tom Ireland MRSB, editor of The Biologist, and Billy Mills AMRSB, Biology Week intern at the Royal Society of Biology.
Katie Huckett for her stop motion animation of the life cycle of a cancer cell.
Year 9 pupils from the Francis Holland School for their model of a cell made from a football.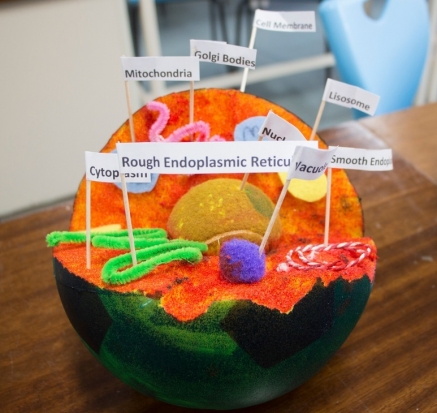 Arnav (9) & Mihika (6) Sharma for their multimedia explanation of the power of DNA.
---