Create art inspired by biology!
We are inviting people of all ages to fuse biology and art to create biology-themed art attacks: BioArtAttacks! These can be anything from collages to models, sculptures or animations.
This is a chance to get thinking creatively about the biology! Get your lab group, classroom, coursemates or simply a group of friends together to make something special, or make something individually that brings together science and art.
What can I use?
Try to be as creative as possible. Can you incorporate biological material into your project, such as sticks or leaves from the garden? Or equipment from a lab? Or use recycled household items, like washing up liquid bottles, cardboard tubes, or cereal boxes! Craft materials like clay, playdoh, pipecleaners and more can also be used.
Themes to think about
Ecology: From the depths of the sea to the Amazon jungle, there are a rich variety of habitats which could provide inspiration for a BioArtAttack. You could choose an individual species, or perhaps species interactions.
Under the microscope: Microscopes can reveal the shapes of cells, whether they are single-celled organisms or forming tissues, and give insights into cell division. Some things are too small to be seen under a light microscope. Scanning electron microscopes produce fascinating images, from the structure of an insect's eye to a colony of bacteria. Even smaller, you could represent the structure of molecules such as DNA in your artwork.
Being a scientist: Labs contain equipment, such as microscopes, which could be the focus for the artwork. You could even create a whole lab scene.
How to enter
You can email us a photo of your creation during Biology Week, or tweet a photo of it, tagging the RSB twitter account and using the hashtag #BioArtAttack.
Extra credit?
You may want to consider using their BioArtAttack as a basis for a CREST Star or CREST Award.
Need some inspiration? Check out last years winners!
In 2016 year three winners were selected by judges Dr Rebecca Nesbit MRSB, scientific programme manager at Nobel Media, Tom Ireland MRSB, editor of The Biologist, and Billy Mills AMRSB, Biology Week intern at the Royal Society of Biology.
Each winner received a HUE Animation studio kit.
Katie Huckett for her stop motion animation of the life cycle of a cancer cell.
Year 9 pupils from the Francis Holland School for their model of a cell made from a football.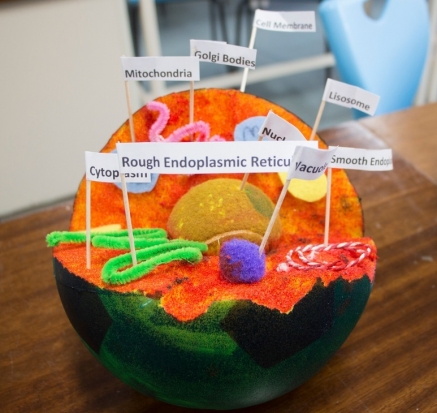 Arnav (9) & Mihika (6) Sharma for their multimedia explanation of the power of DNA.
---