How to enter
The Nancy Rothwell Award 2022 is now open for entries.

Each entrant can submit only one drawing for the award. We encourage entrants to enter scans of their specimen drawings rather than photographs. Entrants should keep hold of their original drawings as these may be requested at a later date.
Please read the competition's terms and conditions before entering and submitting your drawing.
The Award will close for entries at 23:59 BST on 29th July 2022. Winning entries will be announced on the RSB website in October 2022.
Prizes
There are three age categories (7-11, 12-14, and 15-18) and prizes are awarded for:
Highly commended
Top three runner-up entries in each category will be awarded a set of drawing pencils and a certificate.
Winner
The overall winner in each category will be awarded a set of drawing pencils, a certificate and £25. The winners' schools will also each receive £100.
All highly commended entrants and winners will be invited to an online experience day at the Royal Veterinary College.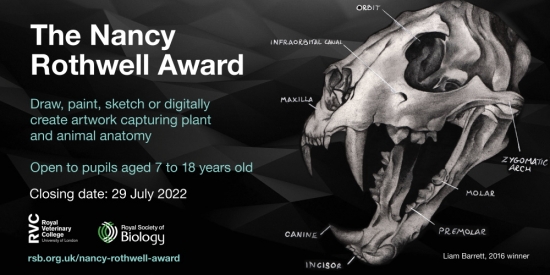 About the award
The Nancy Rothwell Award celebrates specimen drawing in schools and highlights the benefits of combining art and science.
Find out more about previous award winners.
Resources
A poster is available to help promote the competition. Teachers will also be able download a PowerPoint presentation resource to use during their art/science lessons to inspire their students' drawings.
Contact
Email Raghav Selvam if you have any queries regarding this award.
Judges
Claude Barbé-Brown, Inspire!
Andrew Crook MBE FRSA, Royal Veterinary College
Lucy Eckersley, Royal Veterinary College
Tom Ireland MRSB, Royal Society of Biology
Timothy Pond, Zoological Society of London
Dr Grace Sim, Royal Veterinary College
Professor Susan Standring FRSB, King's College London
Matt Webb AMRSB, Royal Society of Biology
Award support
The Royal Society of Biology wishes to thank the Royal Veterinary College for its continued support of this award.