BioArtAttack 2D and Nancy Rothwell Prize winners
The BioArtAttack 2D award celebrates careful observation of the natural world and highlights the benefits of combining art and science. The Nancy Rothwell Prize is a sub-category for specimen drawings entered into this competition.
---
7-11 year old category
BioArtAttack 2D Prize Winner: Alexis Ng (aged 10) from Brookfield Primary Academy, Sutton, UK.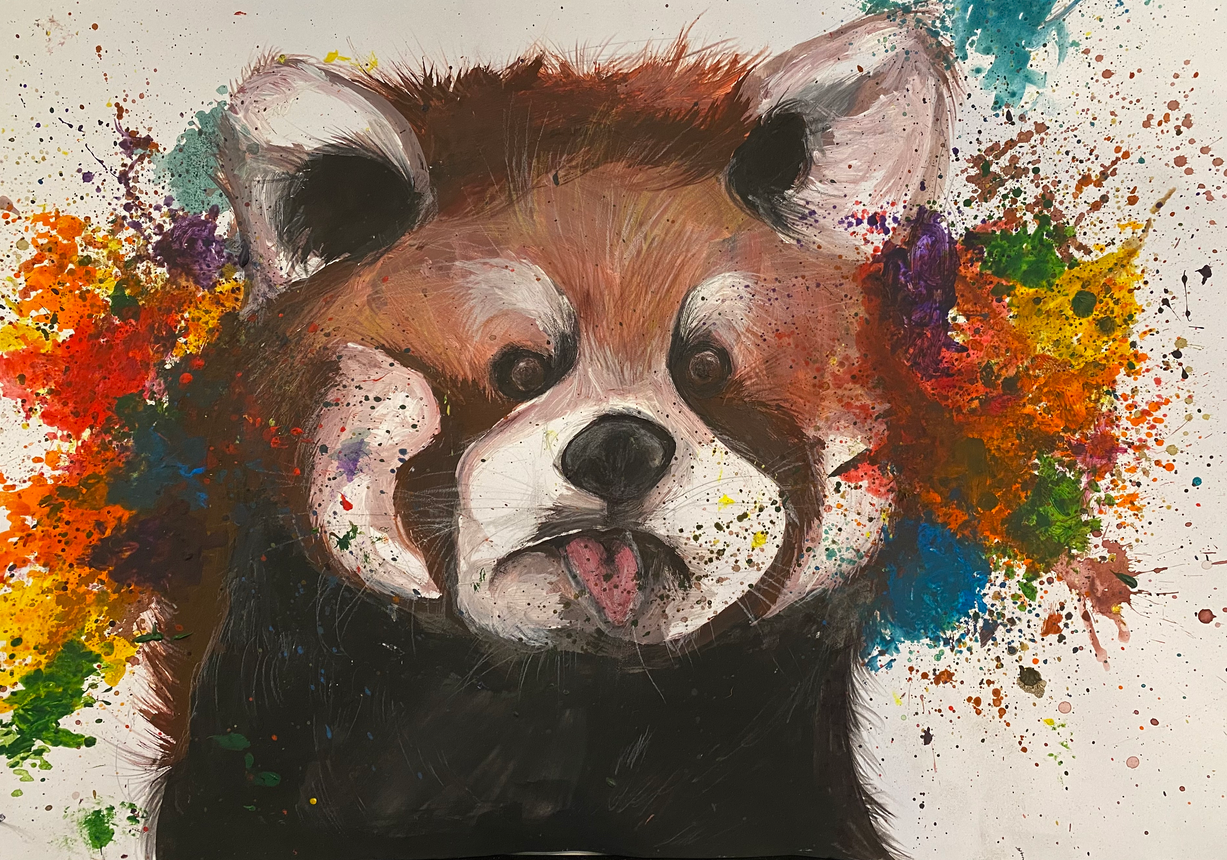 "Thank you for this amazing award, I am so grateful." - Alexis
Specimen: Chinese Red Panda (Ailurus fulgens)
Material used to draw specimen: Acrylic, color pencil, pencil
Nancy Rothwell Prize Winner: Ottilie Murdoch Dovar (aged 11) from Wells Cathedral School, Somerset, UK.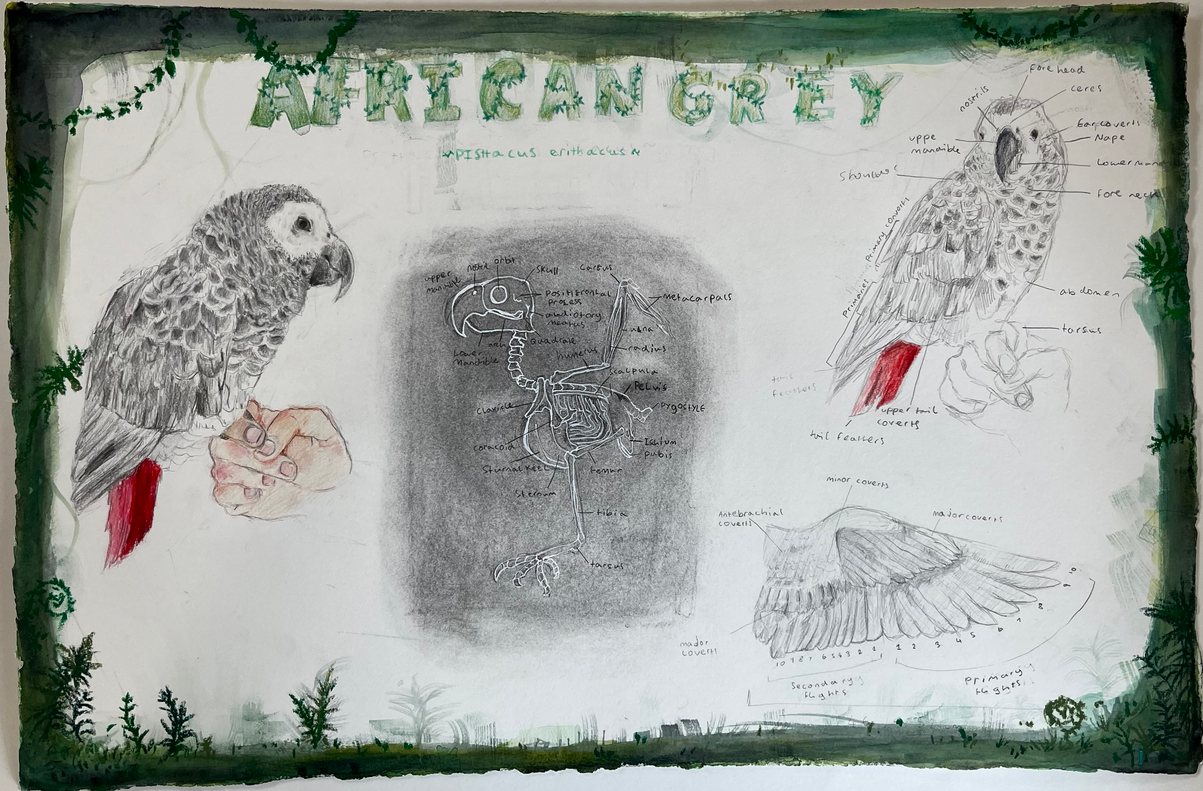 "My family has had Quince, an African Grey parrot, all my life and I love to draw him and when I saw your competition I thought it would be really interesting to find out more about him! I am so incredibly happy to have won." - Ottilie
Specimen: African Grey Parrot (Psittacus Erithacus)
Material used: Charcoal, pencil, oil pastels, water colour, white paint pen
Nancy Rothwell Prize UK Winner: Freya Gibson (aged 11) from Esher Church School, Surrey, UK.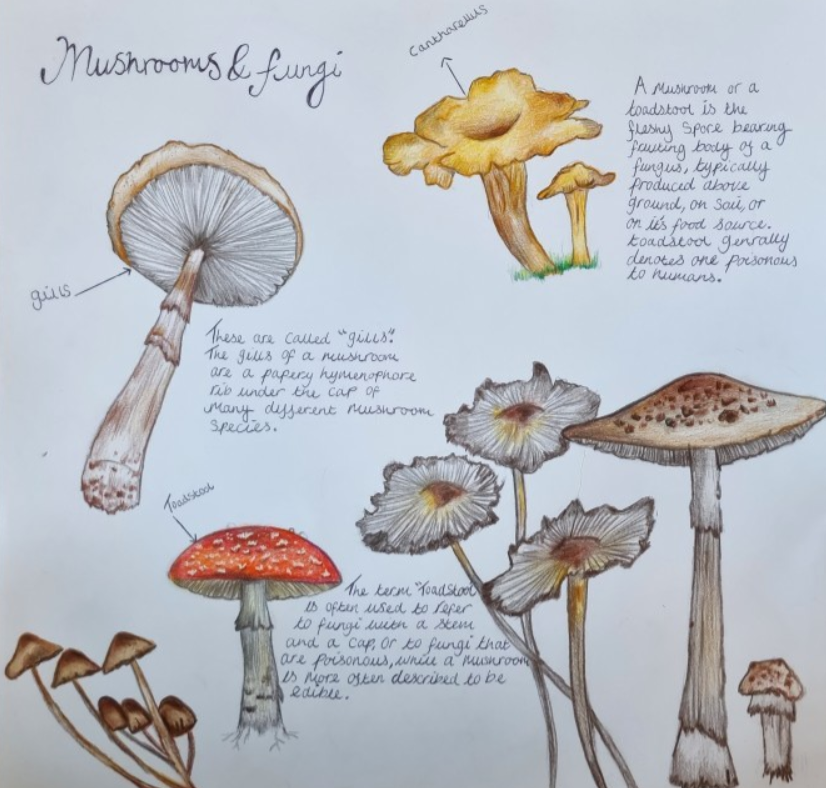 "I am so grateful that I have been picked as a winner within this amazing competition. I love nature and to have the opportunity to combine this with art is a big passion of mine. To share this piece with the RSB BioArtAttack attack, Nancy Rothwell award was such a pleasure." - Freya
Specimen: Fungi and mushrooms
Material used: Pencil
---
12-14 year old category
BioArtAttack 2D Prize Winner: Sarvini M (aged 12) from CS Academy, Coimbatore, India.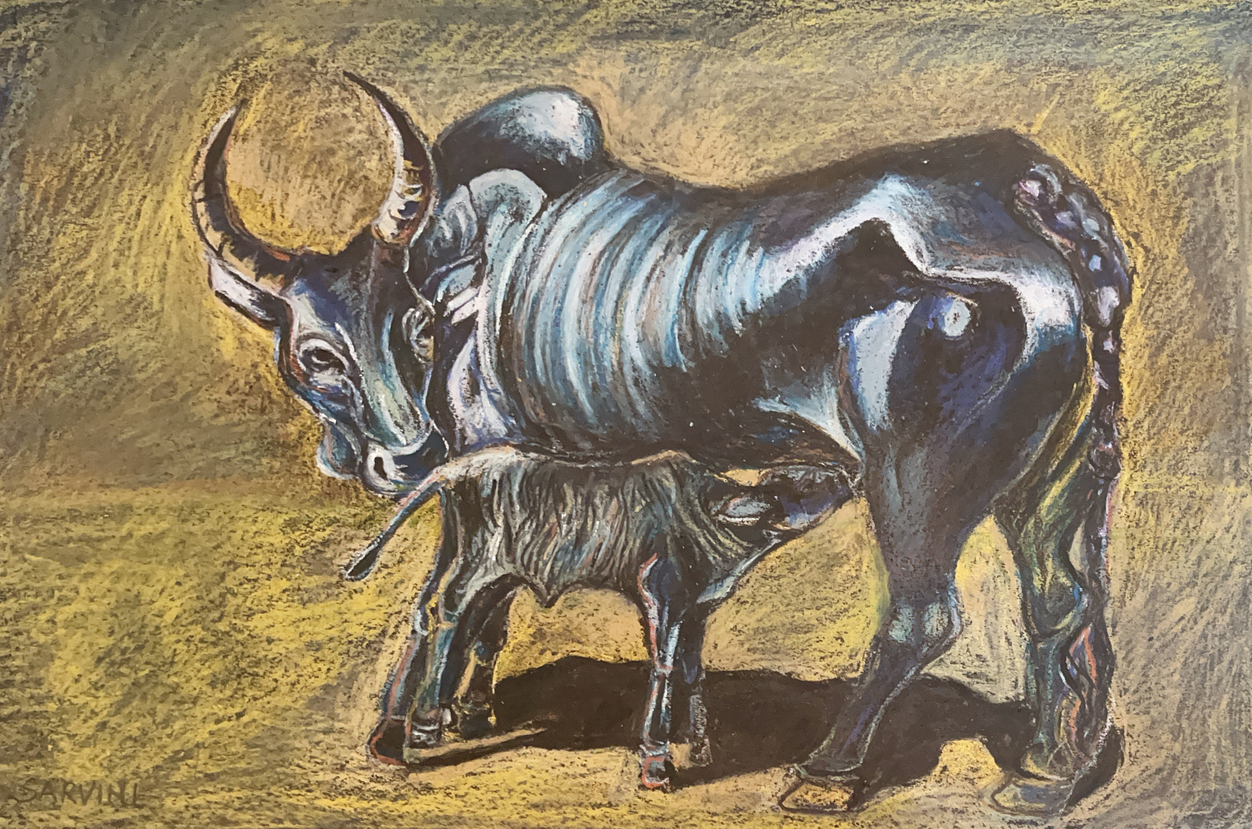 "This artwork is an effort by me to not only explore the biological aspects of my favourite animal - Kangeyam cattle, that I have grown amongst for almost all my life - but to also portray mother's love, one that is universal. Therefore I am delighted to know that this attempt of mine has reached a wider audience through this competition, it has truly been a pleasure to be internationally recognised and appreciated for my art." - Sarvini
Specimen: Kangeyam cattle
Material used: Oil pastels
Nancy Rothwell Prize Winner: Vanessa Ho (aged 14) from Harrow International School, Hong Kong.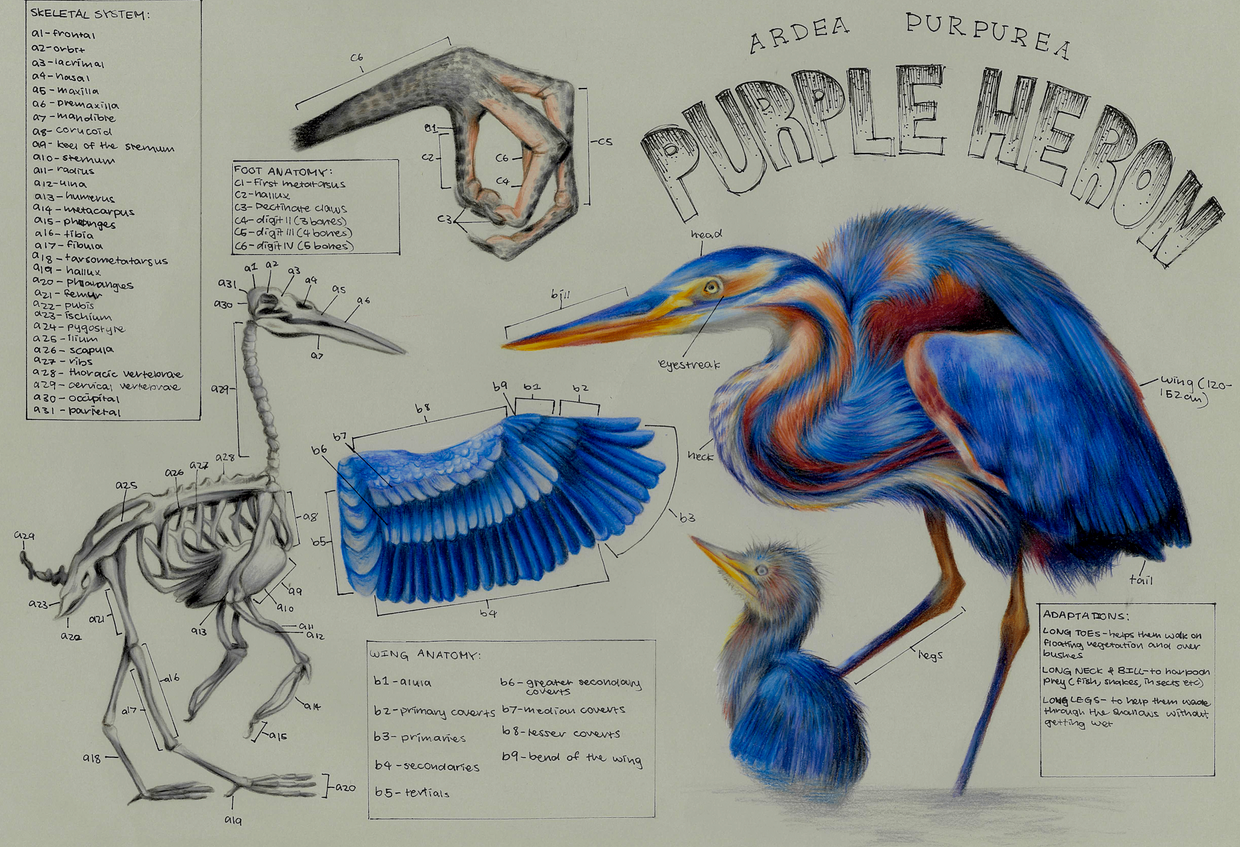 "When I first received the news - I was in complete denial. I didn't expect to win, so my first thought was that I read things wrongly! But now, I feel so immensely thankful and elated (and still a little bit in denial). I was inspired by the beautiful colours of the purple heron, so I thought I would give it my best attempt at recreating it to bring more attention to this breathtakingly beautiful and complex bird!" - Vanessa
Specimen: Purple Heron (Ardea purpurea)
Material used: Colour Pencil
Nancy Rothwell Prize UK Winner: Leonardo Falcone (aged 13) from Hampton School, Hampton, UK.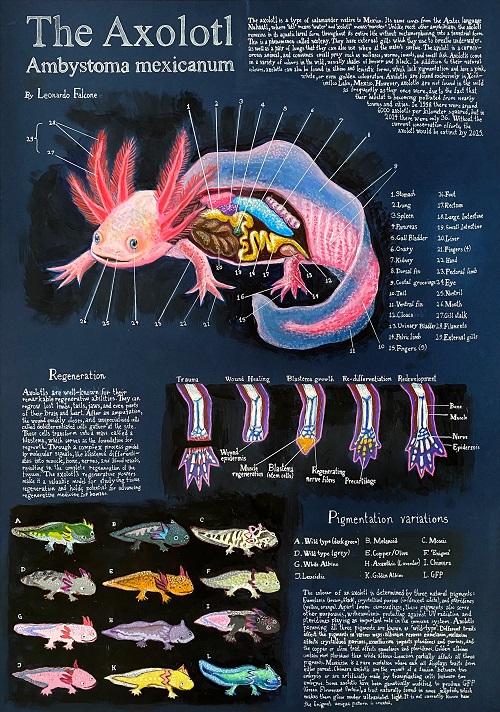 "I thoroughly enjoyed the opportunity to combine two of my passions, biology and art, into one project. Discovering that the judges liked my artwork made me extremely happy. I chose to research and depict the axolotl because I consider it one of the most unique animals on the planet. Its appearance is unlike any other creature I know of, and its ability to regenerate entire body parts is truly fascinating. I've always thought that the axolotl looks like a mesmerising visitor from another planet; its translucent skin, external gills, and cute, smiley face are features I truly enjoyed depicting in my artwork." - Leonardo
Specimen: Axolotl (Ambystoma mexicanum)
Material used: Acrylic paint, coloured pencil and white paint marker on a mounting board
---
15-18 year old category
BioArtAttack 2D Prize Winner: Amy Mackintosh (aged 15) from The Sixth Form College Farnborough, Hampshire, UK.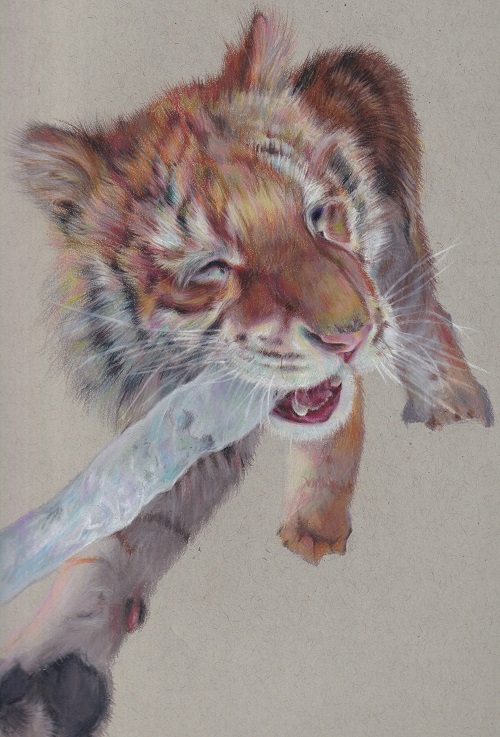 "I was over the moon to have won, especially because I was in an art lesson when I got the notification! This was the first competition I had ever entered outside of school, so it feels like a brilliant achievement. I was inspired by my love of animals, particularly cats - which is why I chose to draw a tiger. (A distant relative of my own tabby cat!) The style I used was hyperrealistic, as I like to try bringing the animals I draw to life by experimenting with colour and exaggerating the natural tones within their fur." - Amy
Specimen: Amur Tiger (Panthera tigris altaica)
Material used: Pencil
Nancy Rothwell Prize Winner: Asmi Agarwal (aged 15) from The British School, New Delhi, India.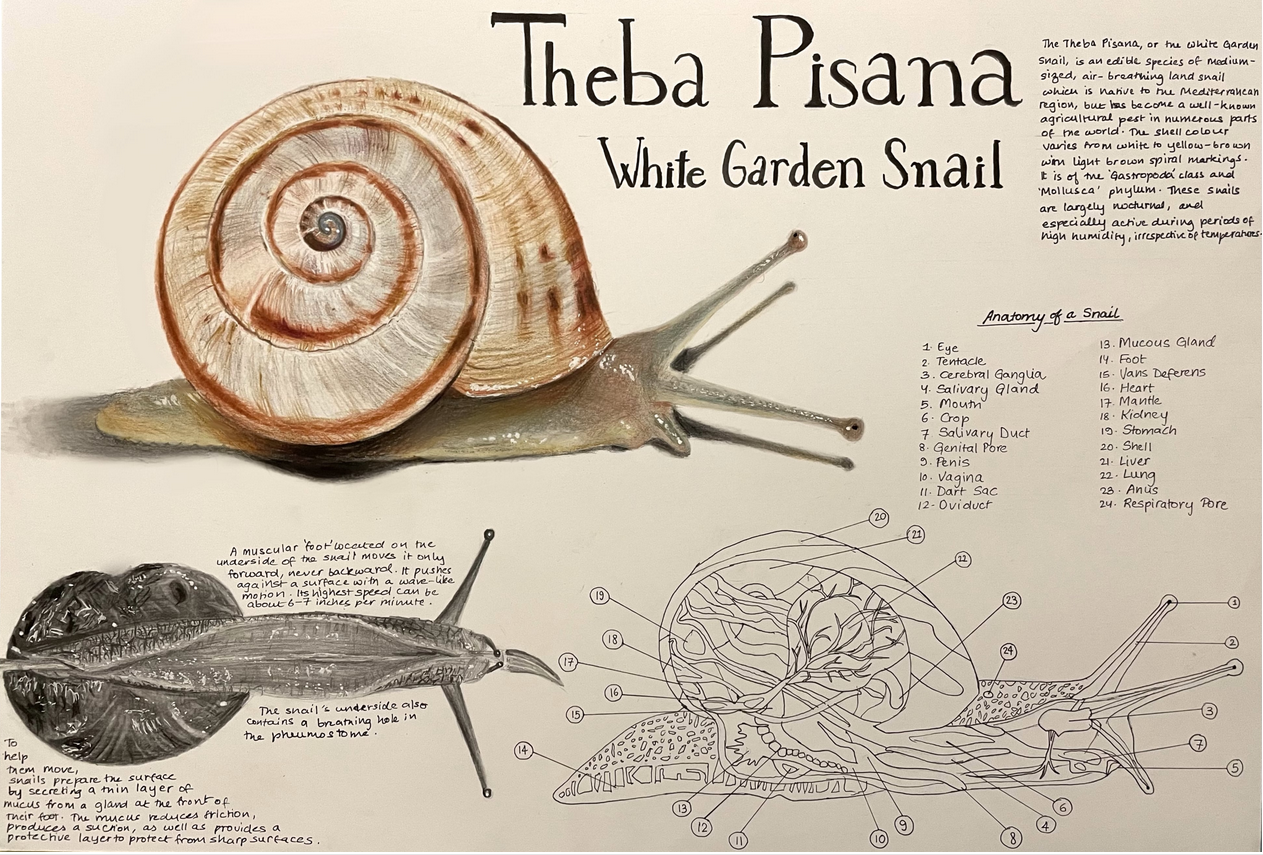 "I am thrilled at having won the contest, as it was an incredibly enriching experience, and I am glad that the finished product of my learnings was received so well. My inspiration for the drawing I submitted actually came from a book I'd been reading at the time, a quote which reads, 'People forget about creatures that live in shells.' I've also had a sort of fascination with the ornamental nature of the calcareous shell patterns, which encouraged me to look at them a little more deeply, and to put down what I saw on paper." - Asmi
Specimen: White Garden Snail (Theba pisana)
Material used: Coloured pencil, charcoal, pen
Nancy Rothwell Prize UK Winner: Aanchal Kumar (aged 17) from Guildford High School, Guildford, UK.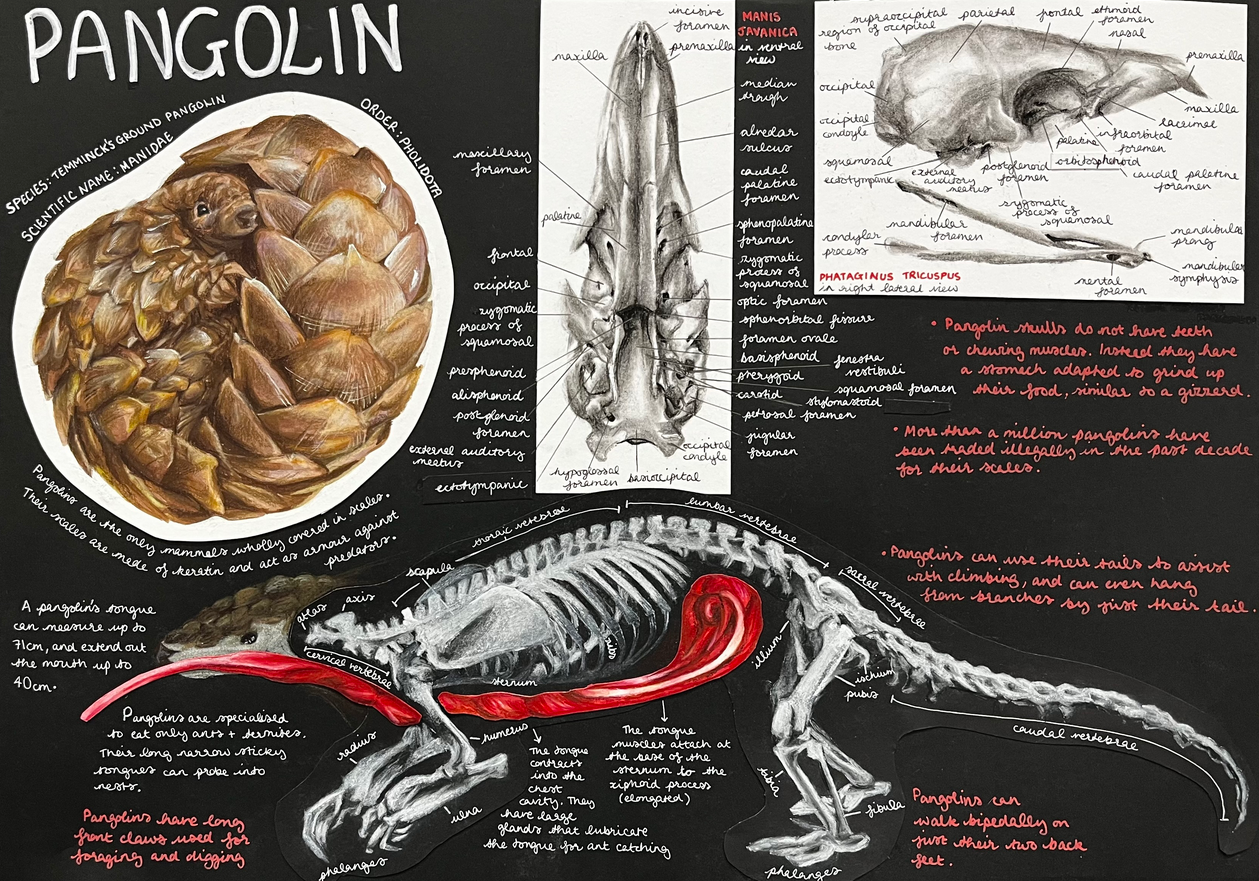 "I am very grateful for this opportunity and thrilled to be a winner of this prestigious competition. I wanted to do an in-depth drawing of the pangolin as I had been doing a research project on illegal wildlife trade. The pangolin stood out to me with its unique anatomy and tragic widespread hunting. I am keen on combining my passion for art with my academic interests and this specimen drawing required as much scientific research as it required artistic effort; capturing its beauty and simultaneously its intricate anatomy." - Aanchal
Specimen: Pagolin (Smutsia temminckii and Patriomanis americana)
Material used: Charcoal, chalk, colouring pencil, and markers
---
Special thanks to the competition's judges.