The Royal Society of Biology (RSB) Travel Grants will give the opportunity for UK or overseas travel in connection with biological study, teaching or research to those who would otherwise be unlikely to have it. With the aid of the grant, recipients will be able to learn new lab and field techniques, gain professional development skills, and network with academics.
This year, RSB offered two types of travel grant of up to £1,000 to AMRSB and early-career MRSB members worldwide:
These grants open for applications on Monday 16th October 2023 and close at 23:59 on Friday 26th January 2024.

Read reports from previous grant recipients and contact membership@rsb.org.uk with any queries.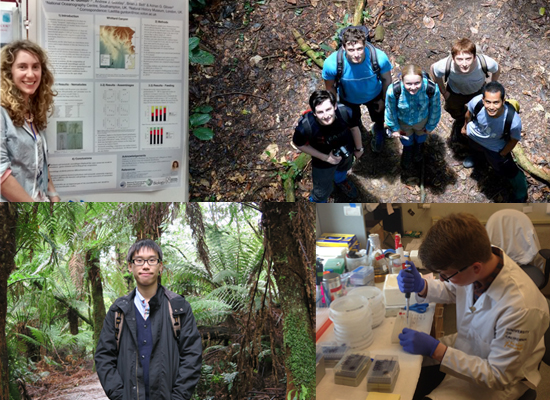 Laetitia Gunton (top left) at the 14th Deep-Sea Biology Symposium in Aveiro Portugal. Fergus Kennedy (top right) and colleagues at the Danum Valley Field Centre in Sabah, Borneo. Chi-Ching Tsang (bottom left) at the 19th Congress of the International Society of Human & Animal Mycology in Australia. Hugh Nicholson (bottom right) at the Fischer Laboratory, University of California in the USA.