Photography Competition
About the competition
The Royal Society of Biology annual photography competition invites amateurs to submit photographs on a particular theme.
Find out more about previous competition entries.
Photography Competition 2018
'Patterns in nature' is the theme of the 2018 competition. Life on Earth encompasses a myriad of regular forms, sequences and structures and we invite you to capture these details of biology. The judges are looking for an original interpretation of the theme
You might wish to explore how animals use spots, stripes and other shapes to camouflage and signal; or capture the collective arrangement of wildlife in colonies, herds and shoals. Your photograph could depict the spirals and symmetries of the plant kingdom to the meanders and tessellations as seen in wider landscapes.
We also welcome entries that explore this theme at a molecular or cellular level, illustrating regular patterns that can only be observed with the aid of a microscope such as cell division and gene expression.
Prizes
There are two categories in the competition, each with a cash prize:
Photographer of the Year (18 and over) - £1,000 top prize
Young Photographer of the Year (under 18) - £500 top prize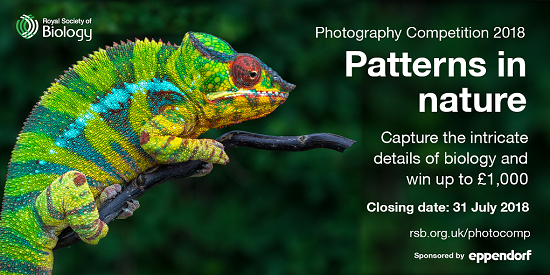 How to enter
The Photography Competition 2018 is now closed for entries.

Each entrant can submit up to three photographs for the competition.
Please read the competition's terms and conditions before entering and submitting your photographs.
Shortlisted entries will be announced in September 2018, and the winning entries announced in October 2018.
Contact
If you have any queries regarding the competition, please contact Raghav Selvam.
Judges
Tim Harris - Nature Picture Library and Bluegreen Pictures
Tom Hartman - program chair of MSc in Biological Photography and Imaging at the University of Nottingham
Alex Hyde - natural history photographer and lecturer at The University of Nottingham
Linda Pitkin - underwater photographer
Competition sponsor
The Royal Society of Biology wishes to thank Eppendorf for its continued support of this competition.